Welcome to the Descendants:Wicked World Wiki!
Welcome to the official Descendants Wicked World Wiki, a collaborative encyclopedia for everything and anything related to the all new Disney Channel original mini series, Descendants: Wicked World, starring Dove Cameron, Sofia Carson, Booboo Stewart, Cameron Boyce and so much more. Today is the 15th of March of 2019 and there are currently 1,581 edits to Descendants Wicked World Wiki. Enjoy visiting and editing on this wiki!
Characters
Aboout the Show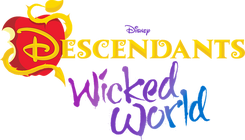 Descendants: Wicked World
is an animated short-form series based on the Disney Channel movie Descendants. It is set to premiere on September 18, 2015 on the Disney Channel and its digital platforms, including WATCH Disney Channel. The series will pick up after the film and introduce new characters. Providing the voices of the animated characters are the movie's stars: Dove Cameron as Mal, Sofia Carson as Evie, Cameron Boyce as Carlos, Booboo Stewart as Jay, Mitchell Hope as Ben, Brenna D'Amico as Jane, Sarah Jeffery as Audrey and Dianne Doan as Lonnie.
Monthly Features
Featured Character




King Ben Florian Ben is the idealistic son of King Beast and Queen Belle. Next in line for the throne, Ben is caring, brave and not afraid of change ...

Featured Cast




"Dove Cameron" (born Chloe Celeste Hosterman; January 15, 1996) is an American actress and singer. She is known for playing a dual role as both title characters in the Disney Channel teen sitcom Liv and Maddie. She also starred in the Disney Channel Original Movies Cloud 9 as Kayla Morgan, and Descendants as Mal, daughter of Maleficent. She is set to reprise her role as Mal in Descendants 2. Read more >

Featured Pairing




Bal is the romantic/friendship pairing of the main characters Mal and Ben.

Mal and Ben first meet each other at the beginning of Descendants and later start dating. learns that Ben's girlfriend gets to be up front with him at his coronation, so she decides to make a love potion in the form of cookies to get Ben to fall in love with her. But when Ben swam, the potion watched off. When Mal asks if Ben has been faking his love for her, Ben gives her his ring and a kiss on her hand and says he hasn't been faking anything.

Featured Episode




"Audrey's New Do? New Don't!" is the 3rd episode of Season 1 of Descendants: Wicked World.

Frustrated by the attention the edgy villain kids' style is getting, Audrey convinces Jane to use magic and transform her hair into "something really out there" after reminding Jane that she is the daughter of the Fairy Godmother.
News
Next Episode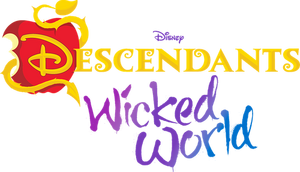 Odd Mal Out
will be released in
Only October 28, 2020 00:00:00 until October 28...
Polls
Are you excited about Season 2 of Descendants: Wicked World?
Join Auradon
Help Out
To upload a picture, click here
To write a blog, click here
To write a new article, just enter the title in the box below
Recent Blog Posts